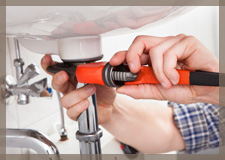 Have you ever been in the shower and felt like you were taking a bath? Shower drain clogs are no fun and they actually make you feel dirty. Sometimes hair may get clogged or other particles and you aren't able to simply remove it with your fingers. Dirty and bacteria can accumulate with this happening and instead of becoming fully clean, you are still in fact harboring dirt and grime on your feet. Sewerline Mckinney TX are experts when it comes to shower drain installation. Our skilled team understands and can assist you with drain repairs. The same goes with bathroom sink drain.
Women are notorious for having all sorts of makeup and hair products in the bathroom. They may even have their friends and siblings over as well. Shaving and brushing and combing the hair can cause the need for drain pipe repair from the experts here at Sewerline Mckinney TX.
We make that our company is known to be the best and most respectable companies in the entire area of Mckinney TX. Give us a call today if you are experiencing the need for fluid draining from your sink or bathtub today. We all need help sometimes. Do not be afraid to pick up the phone and call us now. We are here to assist you. All of our staff members are highly trained and professional and we are here to answer any questions or concerns that you may have. Do not get stuck paying high prices for simple jobs. We offer unbeatable rate. We love to help clean up your drains. Give us a call. We are available 24 hours a day and seven days a week.